Service based on Excellence
Laparkan is committed to ensuring total customer satisfaction by providing quality service and Making a Difference in the lives of our employees and our communities.
Focus on the customer, Concern for people, Trust, Teamwork, Results, Decisiveness, Winning
In 1983, three young enterprising Guyanese – John La Rose, Terrence Pariaug and Glen Khan, saw a need to reconnect West Indians who were living overseas, with their families and friends in their respective homelands in the Caribbean and Guyana. The Caribbean communities in the United States of America, Canada and the UK needed a reliable channel to send supplies, gifts and various other items to their families 'back home'. Thus was born LAPARKAN which is an acronym from the last names of the three entrepreneurs.
Laparkan opened its first office in Toronto, Canada in summer of 1983. The word quickly spread throughout the Caribbean Diaspora and soon there was a demand for offices in other locations. Through hard work and a focused approach, Laparkan quickly established offices in Guyana, New York, Miami and the United Kingdom. The response from the overseas communities was very positive and supportive and within six years, Laparkan had additional offices or agencies opened in Trinidad & Tobago, Jamaica and Barbados.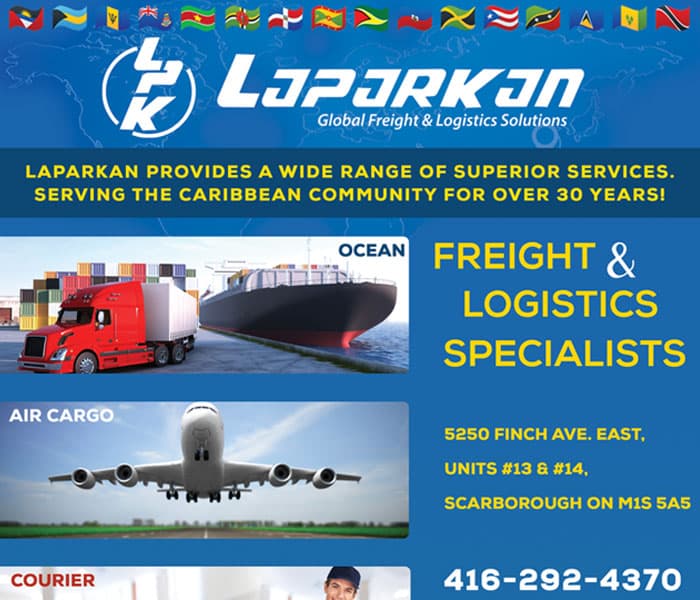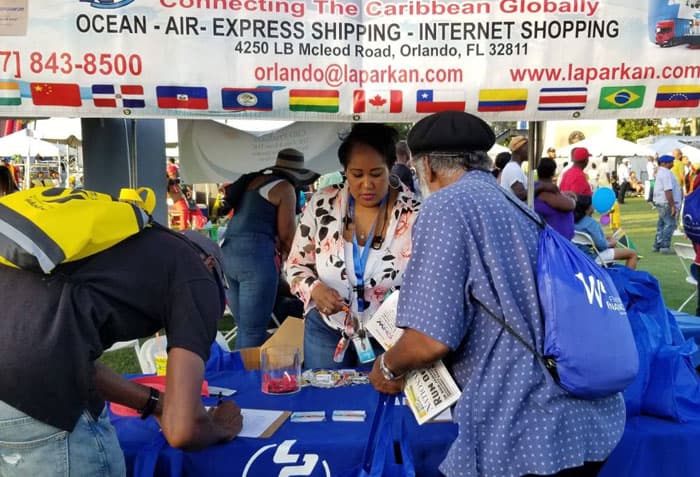 By the early 90's Laparkan fortified and consolidated its markets and planned another push into other Caribbean territories such as Antigua, St. Lucia, Grenada, Surinam and St. Vincent to name a few. With continuous success and growth, Laparkan offered its uniquely Caribbean flavored business brand into the larger markets of Haiti and the Dominican Republic. As Laparkan developed its Caribbean presence, it simultaneously expanded its North America operations. Laparkan offices flourished within the communities that they served and became an integral part of their customer base. Today Laparkan can be found in the midst of the Caribbean communities across the USA and Canada.
With structured growth in place, Laparkan turned its interest to diversification and to the acquisition of major companies in Guyana. It now has ownership of the century old Fogarty's Department Store and is the major shareholder in Guyana's oldest and largest engineering company – the Guyana National Industrial Corporation. Laparkan's diversification also includes the formation of Laparkan Financial Services, Travel and Office Equipment & Supplies Divisions.
Laparkan's unique blend of knowledge, expertise and flexibility is deeply rooted in its foundation and structure, offering unparalleled service and products. Laparkan is committed to ensuring total customer satisfaction by providing quality service and making the difference in the lives of its customers, employees and the communities that they serve, thereby ensuring that it can be there for tomorrow, while continuing to serve the Caribbean today.
As Laparkan nears its 40th year of service to the Caribbean, we are well positioned to handle the challenges which the rapidly changing global trading environment continues to occasion. To this end, within our freight operations we have a state of the art Laparkan Freight Management System (LFMS), set up several Call Centers as well as modern 160,000 square foot warehouse and offices in Miami as part of our ongoing efforts to more effectively and efficiently serve our growing customer base.
The employees of the Laparkan Group of Companies in North America and the Caribbean are a vibrant, multi-talented and creative group of 802 individuals, (USA 128, Canada and the Caribbean excluding Guyana 210, Guyana freight and other businesses including Fogarty's, Rose Bud, Office Services and Financial Services 199 and Guyana wharf operation GNIC 265) who share a common philosophy…"We Make the Difference!" This inner call to excellence and service drives Laparkan forward and pushes beyond expectations as the company continues to connect families, yesterday, today and tomorrow.